The PV350/800 series solar pump inverter ( also can Solar Pump VFD) is a green energy products with new solar MPPT technology, which developed based on AD800 series motor VFD, focusing on driving 3 phase AC pumps including AC induction pumps or high efficiency pumps with permanent magnet synchronous motor (PMSM) technology.
Compare to on grid or off grid solar inverter, it has soft starter, and multiple functions of motor protection, and very high competitive price.
An arrays of solar panels generates the power and voltage required for the PV800 solar pump inverter to drive the AC pumps. The solar pump inverter converts the DC voltage input to a 3 phase AC output with variable voltage and frequency. The MPPT algorithm of solar inverter extracts maximum power available from the solar panels during the day and operates the motor at variable speed based on the power input to the inverter. The frequency range in which the inverter operates depends upon the motor speed, hydraulic system and the power available from the solar panel. As the sunshine varies during the day, power input to the inverter varies and the solar pump inverter generates variable V/F ratio thus controlling the speed of the motor, which in turn regulates the pump impeller speed. Water Level Sensor is used only when the water is pumped to overhead tank.
Product Features

♢ Built in INC and P&O MPPT tracking maths
♢ Suitable for driving all 1/3 phase induction AC pumps, for PMSM high speed pumps is option.
♢ Multiple control modes, local control, auto start/stop, GPRS of IOT remote control.
♢ Maximum power point tracking (MPPT) with fast response speed and stable operation
♢ Dry run (under load ) protection, Water tank fulling detect, Maximum current of pump protection
♢ Low stop frequency protection, sleep/ wake up function when lack/enough of sunlight radiation.
♢ Dual mode input, compatible with DC and AC power input, low and wide range voltage input.
♢ The PQ (Power/Flow) performance curve enables calculating the flow output from the pump
♢ Multiple pumps protection function, short circuit, phase missing, over current, over voltage...
♢ Ambient temperature for using: -10 to +55˚C.
Specifications
** Specification of Solar pump inverter specification when parameters H9.00 set to for 1.
Recommended MPPT voltage range
Vmp 260 to 355VDC for 2T ( For driving 220VAC pumps )Vmp 486 to 650 VDC for 4T (For driving 380VAC pumps)
Recommended input Voc and Vmpp voltage
Voc184(VDC), Vmp 156(VDC) for 1T modles or 110VAC pumps (Min DC is 70VDC)Voc 355(VDC), Vmp 310(VDC) for 2T model or 220V AC pumpsVoc 620(VDC), Vmp 540(VDC) for 4T model or 380V AC pumps
Motor(pump) type
1. Permanent magnet synchronous motor (PMSM )2. Asynchronous motor pumps ( all type 3 phase induction motor)
Rated output voltage
3-Phase,110V/160V/220V. 3-phase, 220V/380V/460V
Output frequency range
0~Maximum frequency 400Hz.
Efficiency
99.2 to 99.6%
Over load capacity
G type for submersible pumps, 150% rated current for 60s, 180% rated current for 3s P type for surface pump, 120% rated current for 60s, 150% rated current for 2s.
Solar pump control special performance
MPPT ( maximum power point tracking),auto/manual operation, dry run protection, low stop frequency protection, minimum power input, motor maximum current protection, flow calculating, energy generated calculating and water tank level detected.
Protection function
Phase loss protection, phase short circuit protection, ground to phase circuit protection , input and output short circuit protection. Stall protection, lightning protection, over heat protection.
Protection degree
IP20, Air force cooling
Running mode
MPPT or CVT
Altitude
Below 1000m; above 1000m, derated 1% for every additional 100m.
StandardAC input backup circuit
CE, Design based on AD800 series high performance inverter, more specification please refer to AD800 series vector control inverter operation manual
PV series solar pump inverter general wiring diagram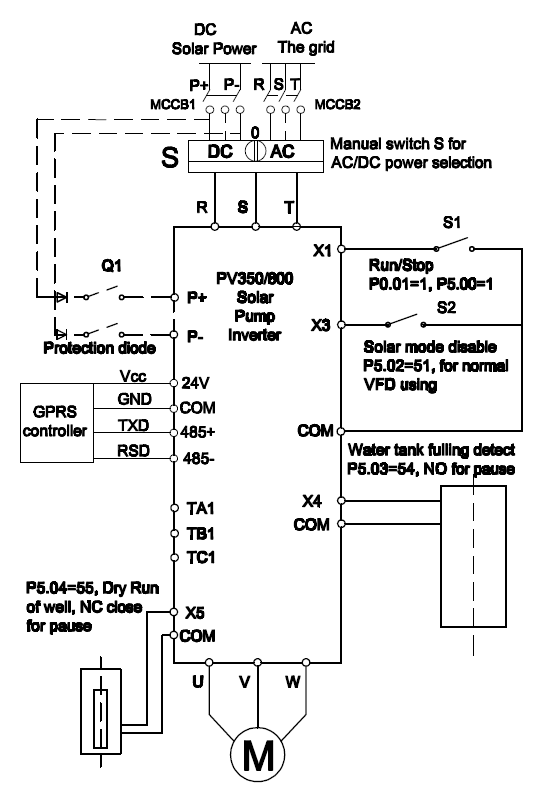 Inverter connection
( Dual mode manual switchover, start/stop switch, AC/DC run mode switchover, water tank float ball sensor switch, well dry run switch, and GPRS controller...)
**Forbidden connect DC power supply to P+ and PB of PV350, otherwise it will cause serious damage.
Note:1. User use a switchover S to select AC grid or solar DC power source by manual.
2. Switch on S1 to start inverter when setting on external switch control mode, P0.01=1, and P5.00=1
3. Switch on S2 when connecting AC grid, make inverter work as normal VFD. set P5.02=51.
4. Connect 2 wires of float ball sensor to X4 and COM for water tank fulling detect, when water level reach to setting, the normal open switch of sensor will turn off to stop pumping, p5.03=54
5. Connect 2 wires of float ball sensor to X5 and COM on the well for dry run protection. P5.04=55.
If request to connect GPRS module controller, connect Vcc to 24vdc power supply, GND to COM, Txd to Rs485+, Rsd to Rs485-.
Solar pump system constitution.

Solar pump system include solar panels arrays, solar pump inverter and AC 1/3 phase pumps, and other accessories, such as combiner box, DC circuit breaker, AC/DC manual switchover, AC circuit breaker....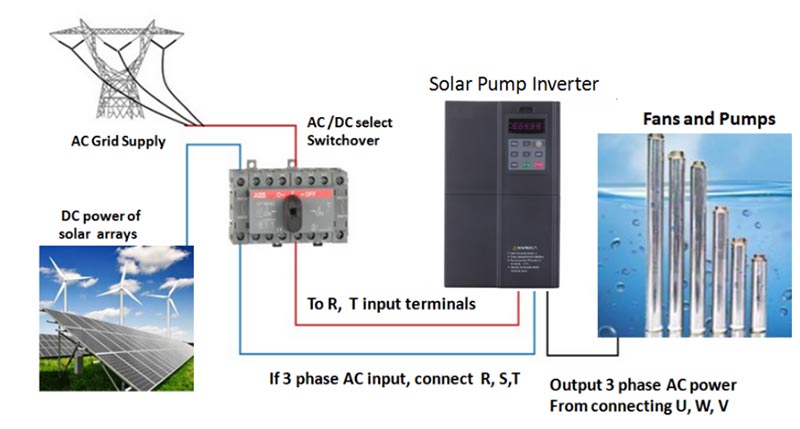 System wiring diagram including solar panels, solar pump inverter and pumps.